Picture this: You've just launched your organization's dream website. It's perfectly sleek, visually stunning, and packed with informative content that you know your target audience will love. You can't help but feel a sense of pride and accomplishment as you hit the publish button. But as the days turn into weeks and the weeks into months, you notice something disheartening – your website is virtually invisible in search engine results. It's like shouting into a void, with no one around to hear your message.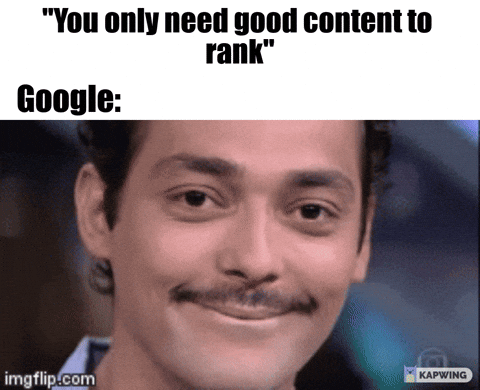 This frustrating scenario is all too familiar for many website owners and marketers who have experienced the challenges of SEO. It's a crucial aspect of digital marketing that can make or break your online presence.
And that's where HubSpot comes in – the game-changing platform has built-in tools and features to make it easy for you.
So, let's learn about the importance of Search Engine Optimization, dissect what makes your content rank well, and see how HubSpot can support the effort and make it all easier.
What is SEO?
Before we jump in too far, let's quickly cover the basics. Search Engine Optimization, or SEO, is the process of optimizing your website and content to rank higher in search engine results pages (SERPs). The better your SEO, the more visible your website becomes, leading to increased organic traffic and potential customers.
Why HubSpot?
HubSpot, a leading CRM platform, offers a range of tools and features specifically designed to make SEO and ranking on search engines like Google, easier. From keyword research and on-page optimization to tracking and reporting, HubSpot has got your back with many tools and features to make it easy.
So for the purpose of this post, we'll be digging into how HubSpot can help you with SEO. However, many of these represent the foundation of SEO and can carry over to other marketing tools.
5 Ways HubSpot Makes SEO Easier
Now, let's take a look at some ways HubSpot makes carrying out a Search Engine Optimization strategy easier:
1. Keyword Research
Keywords are the foundation of any successful SEO strategy. By identifying keywords relevant to your business and integrating these keywords into your content, you increase your chances of ranking higher in search results.
If you're a HubSpot customer (CMS Hub Professional and above), take advantage of the Content Strategy tool by navigating to HubSpot Content Strategy and clicking on the Create Topic Cluster button. As you start typing a topic in the main box, Content Strategy will work its magic, suggesting relevant terms and topics based on your existing site content and your targeted objectives. With these intelligent suggestions, you can refine your keywords.
This is just one of many ways HubSpot can support your keyword research.

2. On-Page Optimization
Optimizing your website's content is crucial for SEO success. HubSpot understands this and have built SEO into the standard page set-up process.
That means whenever you're creating a landing page, blog post, or web page; HubSpot's helpful SEO recommendations are provided on screen.
HubSpot's SEO recommendations include actionable tasks to improve your pages, ensuring it's fully optimized for search engines. From meta tags and headers to formatting, this tool covers it all with helpful suggestions.
All HubSpot accounts have access to SEO recommendations in the page editor which can be used to view recommendations for all of your pages, a specific page/blog post you're working on, or even an existing page with recommendations to optimize.


3. Backlink Building
Backlinks, or inbound links, are like votes of confidence from other websites. HubSpot's referral sources tool helps you identify where your traffic is coming from, a helpful step to secure high-quality backlinks, boosting your website's authority and improving its chances of ranking higher.
Building high-quality backlinks for SEO purposes requires strategies for building meaningful relationships to acquire backlinks over time. HubSpot offers a full, free course on Link Building in the HubSpot Academy.
4. Content Creation
Creating valuable and engaging content is a vital SEO strategy. HubSpot's content creation tools allow you to generate relevant and optimized content that resonates with your target audience. From blog posts and landing pages to social media content, HubSpot streamlines your content creation process. They are constantly adding new tools and features – like their new generative AI tools, Content Assistant and ChatSpot. Tools like these can revolutionize your content creation process.
In my opinion, content creation is an area where HubSpot really shines! HubSpot offers a comprehensive suite of tools for content creation, including:
Blog tool

to create and publish blog posts. It provides a user-friendly editor, SEO optimization suggestions, and the ability to schedule and promote your content.

Website tool

to create and manage web pages. It includes features like drag-and-drop editing, SEO optimization, and mobile responsiveness.

Social Media tool

to create and schedule social media posts to promote your content across various platforms.

Email Marketing tool

to create and send engaging email campaigns to your audience.
Image Source: HubSpot
5. Analytics and Reporting
Measuring the effectiveness of your SEO efforts is crucial to refining and improving your strategy. HubSpot's built-in analytics and reporting tools provide valuable insights into your website's performance, including organic search traffic, keyword rankings, and conversion rates. This data empowers you to make data-driven decisions and optimize your SEO strategy for greater success.
Use the Analytics tool to track and measure the performance of your website, blog, and other marketing efforts. Generate reports on key metrics like traffic, conversions, engagement, and more.
HubSpot's reporting features allow you to visualize data, create custom dashboards, and share reports with stakeholders.
HubSpot provides some of the best analytics and reporting capabilities I've encountered. This is another SEO area where HubSpot's made things easy for you.
Conclusion
And there you have it! Unlocking SEO success with HubSpot is all about utilizing the powerful tools and features it offers. By integrating your SEO strategy using HubSpot, you can streamline your efforts, save time, and achieve better results.
Remember, SEO is an ongoing process. It requires continuous monitoring, adaptation, and optimization. If you have any questions or need any help – just schedule a time to chat.